Home Treatment Options
Choose from low-cost partial treatments or turn your home into a permanently mold-proofed citadel.
Hot Zone Installations: mold prevention in hot zonesTreatment of basement, crawl spaces & attics — called "Hot Zones" — including their masonry, plastic, metal, wood, structural framing, plumbing, HVAC, sheathing, joists, trusses and foundations.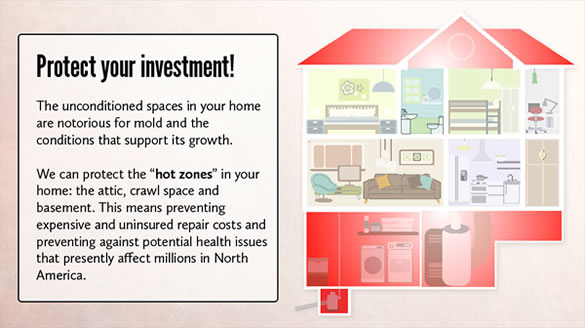 Full Home Mold-Proofing: The Hot Zone Installation plus all living spaces — inside walls, under cabinets, upholstery, carpets and other flooring, HVAC, even door handles and drawer pulls! Our process is safe, and leaves no chemical residue. In fact, we only use environmentally friendly products.
Additions & Expansions: Customized solutions for your home's addition.
Mold Remediation
If we find mold already in your home, you'll find out that not only are we the best at permanently preventing mold, we're also an unstoppable mold-destroying machine. We'll make sure your home is brought back to a safe and clean living environment. Once the mold is removed, you'll have the option of having us go ahead and apply our mold prevention process as well.
Mold Proof Your Office
Everything you see above also applies to commercial properties. Whether you only need a small office treatment or need to get your entire office park mold-proofed, we can help! Our processes are safe & leave no chemical residue.
Mold Proof was featured on an episode of Extreme Home Makeover - Request a FREE Inspection from Stavola RX Today...