We look for mold and mold-friendly conditions, so even if mold isn't growing, we will find any places that could have future growth. Once complete, we'll give you a clear, in-depth report of everything we find, complete with a diagram of your home, any mold-friendly conditions we find and suggested courses of action. Oh, and it's free.
Our #1 Goal here at Stavola RX is to kill & eliminate Mold from your South Jersey home or business. PERIOD.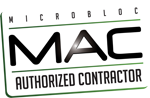 We're a Microbloc Authorized Contractor - This means our inspectors and technicians are trained and certified in the effective use of Microbloc & Mold Proof to eliminate your mold problems. Guaranteed.
Contact us today at 856-753-8899 or request a Free Mold Estimate Online